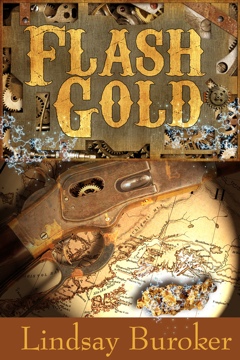 Lindsay Buroker's
Flash Gold
is the first of
The Flash Gold Chronicles
, a series of steampunk novellas set in the Yukon during the Gold Rush Era of the 1890s. The other books in the series are
Hunted
and
Peacemaker
. The story centers on Kali McAlister, an eighteen-year-old, highly skilled tinkerer with big plans for her future. Bravado goes a long way in the wild North, and when a stranger knocks at her door, she chides him for not calling her ma'am.
She propped her hands on her hips by way of disguising another step toward the lever. "It's polite to call a lady 'ma'am.' Even if she's a half-breed wearing man trousers with tools sticking out of all her pockets." Not to mention she was only eighteen and covered in grease. She would collapse in surprise if anyone called her ma'am without the ulterior motive of needing a favor.
Kali is also in a lot of danger and she knows it. Her home and workshop is a maze of boobytraps and a couple mechanical dogs are ready to attack intruders at the flick of "a bronze lever with a billiards-ball knob." Kali has worn out her welcome in Moose Hollow.
Some say her inventions work a bit too well and suggest she's employing magic, that she's a witch. Rumor says that Kali's father developed a type of gold--flash gold--that has "magical" properties: "[T]hey say an engineer can embed commands in it. An ounce is worth a fortune." Those mechanical guard dogs, for instance, seem to have minds of their own, but Kali's not saying, keeping her secrets secret. Criminals and pirates--and there seem to be plenty of them in Buroker's Yukon--would kill to get their hands on some flash gold.
Kali's plan is to win a dogsled race with her latest invention--a dogless, steam-powered sled--and use the winnings to build an airship and sail away from Moose Hollow. The night before the race, a man named Cedar pays her a visit. He's come to take the job of assistant musher for the race. Nelly, the owner of the local brothel, believes Kali will need some protection on the trail and posted the job at Nelly's Good-Time Girls. After some discussion and a fight with a band of criminals in which Cedar proves his fighting skills, Kali agrees to hire him, promising to pay him a small share of the winnings if she wins. The story follows Kali, Cedar, and her steam-powered sled down a frozen river, overland through wooded trails, and across a frozen lake. They are ambushed and otherwise harassed multiple times, including an incident with pirates in an airship. Kali comes to trust Cedar, maybe a little, but Cedar proves to have a whole mess of secrets of his own.
As a young reader, I adored Jack London's adventure stories set in the frozen North:
Call of the Wild
,
White Fang
. I read them all. So I was pleasantly surprised to find Buroker's steampunk series set in the 1890s Yukon. Buroker doesn't disappoint. Danger lurks around every bend for Kali and Cedar.
Flash Gold
is a page-turner, meticulously plotted. Each chapter clicks with the rhythm of a new and increasingly violent obstacle in Kali's path. The writing is clean with an undercurrent of humor that seems to ask the reader if they're taking this seriously. The race and its consequences are serious business for Kali though, and Buroker does not skimp on delving into the emotional issues of her protagonists. I'm looking forward to the next installments in the series. Hop on the sled with Kali and fire up the boiler, you'll enjoy the ride.
To learn more about Lindsay Buroker and her writing, check out her website at
lindsayburoker.com
.